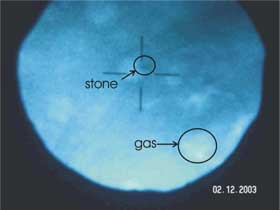 X-ray image of a stone and gas before (above) and after (below) lithotripsy treatment. The similarity in appearance between the stone before and after treatment indicates why the new monitor is required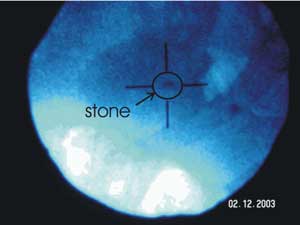 The current procedure, called lithotripsy, focuses thousands of shock waves onto kidney stones in an effort to break them into small pieces which can then be dissolved by drugs or passed from the body in urine. However, it is difficult to discover exactly when the treatment has succeeded in breaking the stone and patients frequently have to experience more shocks than necessary.


The 'smart stethoscope' listens to the echoes, which reverberate around the body after each shock wave. The device has also been used clinically at the London hospitals Guy's and St Thomas'.


'It is an imperfect analogy, but consider a railwayman walking along the length of a train, hitting the metal wheels with a hammer,' explained Professor Leighton. 'If the wheel rings nicely, he knows that it is not cracked. If the wheel is cracked, it gives a duller sound.


'We are looking for the stone to go from being intact at the start of treatment (when it will give a nice ring "tick" sound) to being fragmented at the end of the treatment (when it will give a duller "tock" sound).'


A website containing recordings of these sounds, and other information on the project, is at www.isvr.soton.ac.uk/fdag/litho.htm


In addition to Professor Leighton and Dr Coleman, the team involved Dr Paul White of ISVR, Graham Ball of AWE, PhD students Fiammetta Fedele, Riza Jamaluddin and Cary Turangan and Andrew Hurrell of Precision Acoustics Ltd.


Commercial negotiations between the inventors, the University's Centre for Enterprise and Innovation (CEI) and manufacturers of lithotripters are underway. The project was funded by the Engineering and Physical Sciences Research Council (EPSRC).