A scientist has worked out what a "waterfall" might sound like in space, ahead of a Nasa mission that could find oceans on Saturn's largest moon.
Professor Tim Leighton, of Southampton University, recorded a waterfall in Hampshire and worked out the soundwaves a similar fall of liquid methane would make on the moon Titan.
He was inspired by Thursday's Cassini mission, which could prove him right when its probe reaches the ringed planet's mysterious satellite.
It is believed Titan could be home to oceans and streams of liquid methane.
| | |
| --- | --- |
| | There could be a beach at minus 180C, lapped by an ocean of liquid cooking gas |
The Huygens probe, which was developed by the European Space Agency (Esa), has been attached to the side of Cassini during its six-and-a-half-year-long journey.
Huygens will separate from its mother craft on Christmas Day this year and land on Titan on 14 January, 2005.
Scientists are keen to examine Titan's atmosphere, as it is believed it resembles the primordial chemistry which gave rise to life on Earth.
Its atmosphere is thought to be similar to Earth's at about 90% nitrogen, but much colder at minus 180C.
Professor Leighton embarked on his research after seeing a painting of a "fall" of liquid hydrocarbon on Titan that was commissioned by Nasa to celebrate the mission.
The professor, who is a lecturer in ultrasonics and underwater acoustics, recorded water crashing down the Salmon Leap waterfall in the New Forest town of Romsey, just outside Southampton.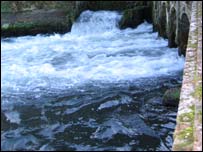 The professor has transformed the sound of Salmon Leap, Hampshire
He and colleague Dr Paul White then used an equation based on the relative properties of water and methane and the atmosphere on Titan to transform the soundwaves made by each bubble.
Professor Leighton says that discovering a sea on Titan would be a major contribution to the Huygens mission - with the sound of a splash or even a "methanefall" a way to do so, if it can be recognised.
He told BBC News Online: "If there is a splash and not a crunch when the probe lands, that would make Titan the first known body other than Earth to have an ocean open to an atmosphere.
"This would mean there could be babbling brooks and streams and a beach at minus 180C, lapped by an ocean of liquid cooking gas.
"But will the noise of splashing, which is so familiar to us on Earth, be recognisable in those conditions?
"Nasa's specially-commissioned painting of a waterfall - actually a methane fall - on Titan inspired me to attempt to predict how it would sound.
"I want the Huygens team to fully exploit the probe's microphone during the three minutes it will spend on the surface of Titan.
"A microphone uses so little satellite time and battery power, and is so sturdy, that I urge Nasa to consider ranking it up the list of priorities when Huygens lands.
"In the long term Titan might mean a lot to humanity, as in the very distant future when our sun becomes a red giant, it will become hotter and could even be a place for us."

LINKS TO MORE HAMPSHIRE/DORSET STORIES